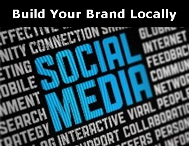 Social media is the most cost efficient and fastest way to build brand recognition for your divorce services business locally.
The most cost efficient and highest closing ratio to obtain clients "offline" is with word-of-mouth – recommendations from people you know. The best form of advertising "online" is reviews and recommendations that prospective clients can read. Recommendations from people who have hired the service provider generate a sense of trust even when the reviewer is unknown to the reader. Reviews not only make you more credible to your potential clients, they make you more "credible" to search engines which will reward you with higher search rankings and more traffic to your company listings online.
If you provide peaceful divorce services, that require face-to-face interaction with your client, it is imperative that you establish your "brand" locally with social media accounts. You can inform the local community about what differentiates you and your business, as well as provide information such as your website, contact information, business hours and location, and the like.
Some social media platforms lend themselves more easily to local geographic marketing, for example: LinkedIn, Google Places, Yelp and Facebook. But how do you know which one (or more) you should use?
Social Media Platforms
LinkedIn
LinkedIn is a professional networking platform that can help you in several ways to establish a professional presence on the Internet. As a Divorce With Dignity Provider, for example, you could –
Set up your individual profile with keywords that people may be searching for online, such as divorce services, divorce support, divorce with dignity, peaceful divorce, etc.
Set up a business profile with your local business name (such as, Divorce With Dignity – Seattle) and use similar keywords.
Join (or start) a group for divorce services professionals, and participate in discussions. You may find Providers in different locations, who might refer clients to you that are in your geographical area.
Check for groups that your clients might join, and participate in discussions there. Answer questions to get yourself known as an expert, and post relevant articles to build credibility and trust.
Google Places for Business
This is a free local platform where you can promote your business, update your address and hours, attach photos, and see and respond to customer reviews. According to Google, 97% of consumers search for local businesses online.
Yelp for Business Owners
Yelp's stated goal is to "connect people with great local businesses". You can set up a business account for free, and create a profile of your business along with your business hours, photos, and a link to your website. Yelp users can review and recommend your business, and you can respond to any review.
Facebook
After building your own Facebook Business Page, you can connect with potential clients' high-quality posts and ads that are relevant to your audience. People can share your posts, giving your business even more exposure.
What You Will Need to Do
Identify Where Your Target Audience Frequents Most
The main factor in determining which of the platforms will benefit your business most is to find where your target audience visits frequently. You can start by doing Google searches on keywords that people would use to find your services, including your geographical location. For example, say you are a Divorce With Dignity Provider in Seattle – people may not know the name of your business, but might search for "divorce support Seattle" to find divorce services businesses in the area.
Allocate Your Time
Another very important factor for deciding which platform to use as part of your social media marketing plan is time. Some platforms require more of your time than others to reap benefits. With Yelp and Google, once you've set up your business profile, you just need to update as needed, and schedule some regular time to see what people are saying about your business and respond when appropriate.
You will need to spend 6-20 hours per week working on your social media marketing. We suggest limiting your initial participation in social media to one or two platforms. Be sure to monitor your reviews and respond to any that express problems or disappointments and try to remedy the situation. Responding in ways that will make your clients feel heard and valued will go a long way toward establishing trust in you and your business in the public's eye.
Update Your Listings & Activity
For LinkedIn, keep your personal and business profiles up to date, and plan to spend some time a couple of days per week engaging in group conversations. With Facebook, you will need to plan for some daily time to post regularly and interact with your audience to build relationships and get marketing results.
Take Away
Use social media to get the word out about your local business and reach a broad audience of potential customers at no out-of-pocket cost to you other than your time.
Related Information
Marketing Divorce Business Services