How Independent Paralegals Can Work With Lawyers and Mediators
To Best Assist Their Clients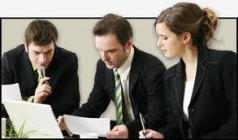 Independent Paralegals (IPs) who own their own divorce services businesses will sometimes have clients who need legal advice or legal representation. Since IPs can do neither of these things, it's important to know several lawyers whom you trust and to whom you can refer clients as needed.
Before we get into how to build relationships with other legal professionals for this purpose, let's define what  an Independent Paralegal is and what services an IP can provide.
Independent Paralegal Definition
As defined by the National Federation of Paralegal Association:
A Paralegal is a person, qualified through education, training or work experience to perform substantive legal work that requires knowledge of legal concepts and is customary, but not exclusively, performed by a lawyer. This person may be retained or employed by a lawyer, law office, governmental agency or other entity or may be authorized by administrative, statutory or court authority to perform this work. Substantive shall mean work requiring recognition, evaluation, organization, analysis, and communication of relevant facts and legal concepts.
Independent Paralegals are not employed by a law firm or supervised by an attorney; they do not give "legal advice" or "practice law", nor can they choose the legal forms for clients. They are legal technicians with strictly delineated permitted legal services they can provide.
In the state of California for example, legal technicians (called Legal Document Assistants (LDAs)) are allowed to do three things:
Distribute legal materials that have been published or approved by a lawyer
Prepare our clients' documents under their direction/supervision
File our clients' legal forms in the appropriate courts
Independent Paralegal scope of work varies by state law. Be sure to check your local laws on the specifics of what duties IP's in your state can perform.
Working With Lawyers & Mediators
So, when IP's encounter situations with their clients that may need legal advice, they will need to immediately refer them to an attorney they have a trusted relationship with, and once the client has obtained the legal advice they need, clients can come back to them for the legal document preparation.
This type of arrangement with a lawyer involves what is known as "limited-scope representation", which means that the lawyer agrees to provide legal services for a client on a specific issue basis. This is sometimes referred to as "unbundling" or "discrete task representation".
Other times, you may encounter some clients who fail to come to agreement on a peaceful divorce. In this case, knowing some attorneys and mediators whom you can confidently refer them to is a great service to the client.
We have found that the attorneys/mediators to whom we refer clients when they need mediation, legal advice or representation sometimes reciprocate and refer clients back to perform document preparation. We don't ask for reciprocal referrals, but when you establish a relationship with these professionals and they esteem your work, referrals are likely to come your way.
They may even want to hire you to do some contract paralegal work for them, which is a nice additional revenue stream for you. But the main reason to have a good network of attorneys and mediators is for the benefit of your clients.
Finding Relationships
There are various ways to get your attorney/mediator network set up, and this is one topic we cover when we train our Divorce With Dignity Network Providers. We impart ways you can get yourself known in the legal community. For example:
Look to volunteer in the court through your local Bar Association to assist clients under the supervision of an attorney (who is also volunteering in the court).
Join your local Bar Association as an Associate Member, giving you the opportunity to attend luncheons, meetings, and educational events.
These are just a couple of ways to learn, as well as network with local attorneys.
Take Away
For an Independent Paralegal who owns a divorce services business, there will be times when your client may be best served by professional mediation, legal consultation or legal representation, whether on a limited-scope or full-case basis. Your ability to provide referrals to the resources they need is an important part of assisting your clients.
If you would like to learn more about having your own independent paralegal careerowning your own divorce services business as a Divorce With Dignity Provider please visit our website PeacefulDivorceBusiness.com.