Build your divorce services business brand, drive website traffic and
network for free with Twitter.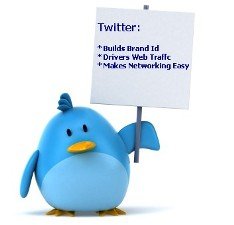 A social media platform for micro-blogging, Twitter (only 140 characters allowed per "tweet"). It can be considered a fast-moving news feed. People "follow" other people, which mean that every time someone you are following posts an update, you receive it. Likewise, anyone following you will get updated when you add a new post.
Compared to other social media platforms such as LinkedIn and Facebook, Twitter requires more time to promote your divorces services business. Because it moves so quickly, you should post often – ideally several times a day – to be effective. But you can't just post your updates. You need to balance your own posts with following others, "retweeting" their relevant posts, and replying to communications from your followers. Plan on scheduling "Twitter time" throughout the day in order to successfully build a Twitter following and your reputation.
You may be wondering if all that time and effort will pay off. How can Twitter help you to promote your divorce services business? By using Twitter, you can: Build your brand, credibility, & visibility
Educate people about peaceful divorce
Drive traffic to your website
Develop relationships and network with people who may eventually become clients or will refer clients to you
Build a social network of joint venture Providers (cross-promotion)
Getting Started with Twitter
First, go to www.twitter.com. Look for the "New to Twitter" box and follow the instructions to register and set up your account. Be sure to add your picture – people like to see who's doing the talking.
To post something to Twitter, go to your home page and click on the box below "What's Happening". Type your post, and click on the "Tweet" button.
To find what people are talking about in your field, use the hashtag symbol (#) followed by a keyword in the Search box.
To mention a person or a company on Twitter, use the (@) sign followed by their Twitter user name in your tweet.
Do Research
Find out who is talking about topics relevant to your business. Do a search for keywords such as "#divorce services" or "#peaceful divorce", and select some people or organizations to follow.
Try doing a search with keywords followed by a question mark, such as "divorce?" to see what questions people are asking.
Tip: You can use Twitter's RSS feed to be notified whenever a tweet containing a certain keyword is posted.
What to Post
Twitter is a place where people come to hang out, see what's going on, find things that interest them, or ask questions. They don't want to hear how great your company is, or be pitched to. Instead, try to be helpful by posting links to relevant information, or write something intriguing that will peak their interest so they will visit your website or engage you in conversation.
Some things you can tweet about –
answer a question
ask a question of your audience
reply to tweets of your followers
status of your projects or events
link to your recent blog post
link to an interesting news article
retweet someone else's post that is relevant to your business topics
quotes (try Googling "quotes" to find many sites you can use as resources)
things that have peaked your interest
advice on various topics related to divorce
notifications about helpful websites or blogs
When you link to items other people have written or retweet something, always credit the source.
Getting People to Follow You
If you only post self-promoting tweets, people will not follow you. The best way to get followers is to post updates that are useful and relevant to their needs, and to do it regularly. In addition to your own writing, share items from other sources. To find material, you can set up a Google Alert on specific keywords.
Using your business keywords in your posts will help people find you in their searches. But you don't have to wait for everyone to come to you. You can do you own keyword searches to find people who have a group of followers you would love to have for yourself. Then follow those followers – often they will follow you back.
Another great way to build your base of followers is to add your Twitter URL (and the suggestion "Follow Me on Twitter") to your automated email signature, website, blog postings, business cards, marketing materials, and your profile/postings on other social media platforms.
Take Away
Twitter offers a great opportunity to promote your divorce services business as long as you learn the etiquette. Brand building, driving traffic to your website and networking at a low cost principally your time makes tweeting well worth the effort.
The Divorce With Dignity Network, Inc. helps legal professionals across the United States to own and operate a successful independent peaceful, divorce services business. We offer a proven business model and a superior lifestyle opportunity for those legal professionals seeking their own independent business or it can create an incremental revenue stream without adding overhead to an existing family law or mediation practice. We invite you to learn about the many benefits of becoming one of our Providers by visiting our websitePeacefulDivorceBusiness.Com.