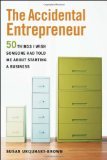 Any successful endeavor starts with planning, and that is especially true when starting a business.  A well-formulated business plan is essential to that planning – without it, you won't be able to develop effective marketing strategies or know if your business development is on track.
A business plan does not have to be long or complicated.  When I first started my divorce legal services business, I hired someone to do a fancy multi-page traditional business plan. Unfortunately, it sat on the shelf because I couldn't figure out how to use it. I have since developed a much simpler business plan (just one or two pages) that is useable and helpful in keeping me focused on advancing my business.
Susan Urquhart-Brown, personal business coach (www.careersteps123.com) and author of The Accidental Entrepreneur: 50 Things I Wish Someone Had Told Me About Starting a Business, is one of our business associates who has great advice for new entrepreneurs. In her book she explains what a well-thought-out business plan can do for you –
Clarify your thinking so you can channel your energy
Help you look objectively at the feasibility of your business idea
Help you define your goals and outline your detailed plans
Focus attention on your priorities
Set benchmarks to track performance
When an Provider joins the Divorce With Dignity Network, I help them create a customized business plan and advise them to review it monthly and rewrite it annually. It is not a set-in-stone document, but can and should be changed as your business evolves. Throughout the year you can measure your business performance in light of your objectives, and set new goals to attain.
I asked Susan what steps, in addition to a business plan, a new divorce services business owner can take to promote success. Here are some of her comments:
"Get a mentor. As a Divorce With Dignity Network Provider, you have a built-in mentor with Cindy."
"Find someone who is doing a similar business, but not in your area, and do aninformational interview to get tips." (As part of the Divorce With Dignity Network, you would have access to the expert advice and tips from other divorce services Providers in the national Network.)
(When you are part of the Divorce With Dignity Network, we can teach you how to get your financial plan in order.)
"Make sure you run the numbers to know your overhead, what you can expect to make, and when you might be at the break-even point."
"Your business services setup is important. Divorce With Dignity helps its new Network Providers to get set up properly."
If you are considering starting your own divorce services business, why not get a head start by becoming part of the Divorce With Dignity Network? Let us help you to develop your successful divorce services business.